Daily Quotes by Email
Positive Attitude Books
Add the "Quote of the Day" to Your Site or Blog Now!
- Positive Attitude Quotes -

How things look on the outside of us depends on how things are on the inside of us.
~ Park Cousins

---

We think in generalities, but we live in detail.
~ Alfred North Whitehead

---

It is by sitting down to write every morning that he becomes a writer. Those who do not do this remain amateurs.
~ Gerald Brenan

---

He was a "how" thinker, not an "if" thinker.
~ Unknown Author

---

Skill to do comes of doing.
~ Ralph Waldo Emerson

---

As is our confidence, so is our capacity.
~ William Hazlitt

---

Success produces success, just as money produces money.
~ Nicolas de Chamfort

---

Think like a man of action, act like a man of thought.
~ Henri Bergson

---

No man can think clearly when his fists are clenched.
~ George Jean Nathan

---

Beauty to me is being comfortable in your own skin.
~ Gwyneth Paltrow

---

Our belief at the beginning of a doubtful undertaking is the one thing that ensures the successful outcome of our venture.
~ William James

---

If you constantly think of illness, you eventually become ill; if you believe yourself to be beautiful, you become so.
~ Shakti Gawain

---

You have to believe in happiness, or happiness never comes.
~ Douglas Malloch

---

If you keep on saying things are going to be bad, you have a good chance of being a prophet.
~ Isaac Bashevis Singer

---

What one believes to be true either is true or becomes true within limits to be found experientially and experimentally. These limits are beliefs to be transcended.
~ John Lilly

---

The thing always happens that you really believe in; and the belief in a thing makes it happen.
~ Frank Lloyd Wright

---

Whatever the ups and downs of detail within our limited experience, the larger whole is primarily beautiful.
~ Gregory Bateson

---

The name we give to something shapes our attitude toward it.
~ Katherine Paterson

---

This I know. This I believe with all my heart. If we want a free and peaceful world, if we want to make the deserts bloom and man grow to greater dignity as a human being- we can do it!
~ Eleanor Roosevelt

---

Failure is impossible.
~ Susan B. Anthony

---

If you think you can, you can. And if you think you can't, you're right.
~ Mary Kay Ash

---

Life is raw material. We are artisans. We can sculpt our existence into something beautiful, or debase it into ugliness. It's in our hands.
~ Cathy Better

---

I invented my life by taking for granted that everything I did not like would have an opposite, which I would like.
~ Coco Chanel

---

If you look at life one way, there is always cause for alarm.
~ Elizabeth Bowen

---

Being tall is an advantage, especially in business. People will always remember you. And if you're in a crowd, you'll always have some clean air to breathe.
~ Julia Child

---

Teenagers travel in droves, packs, swarms. ... To the librarian, they're a gaggle of geese. To the cook, they're a scourge of locusts. To department stores, they're a big beautiful exaltation of larks ... all lovely and loose and jingly.
~ Bernice Fitz-Gibbon

---

Both abundance and lack exist simultaneously in our lives, as parallel realities. It is always our conscious choice which secret garden we will tend ... when we choose not to focus on what is missing from our lives but are grateful for the abundance that's present-love, health, family, friends, work, the joys of nature, and personal pursuits that bring us pleasure-the wasteland of illusion falls away and we experience heaven on earth.
~ Sarah Ban Breathnach

---

Exude happiness and you will feel it back a thousand times.
~ Joan Lunden

---



Author Index
Browse quotes by the author's last name.
Featured Author

Mahatma Gandhi

Mohandas Karamchand Gandhi (Mahatma Gandhi) was known as the Father of Nation played a stellar role in India's freedom struggle. Thinker, statesman and nationalist leader, Mohandas Karamchand Gandhi not only led his own country to independence but also influenced political activists of many persuasions throughout the world with his methods and philosophy of nonviolent confrontation, or civil disobedience. If he had wanted, Gandhi could have lived a very comfortable life as a lawyer. Instead he devoted it to prayer, fasting and meditation. He wore basic clothes and lived off fruit, vegetables and milk. He gave up his personal comfort to bring well-being to millions of others. He was one of the greatest men of this planet. (1869-1948)


Mahatma Gandhi's Quotes
---
More Authors
Popular Authors
Popular Topics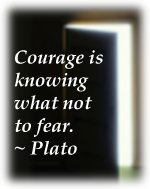 More Courage Quotes Here
Selected Quotes